The end result of my personal Monday Mission project is a thing of beauty, isn't it? Oh, how I love having a clean kitchen counter!
* sigh *
Well, as promised, I shall stand tall and brave (just like my clients) and reveal to you one of the best-kept secrets and hidden truths of a real-life professional organizer's lived-in home…
[ insert an overly dramatic drumroll here, please… ]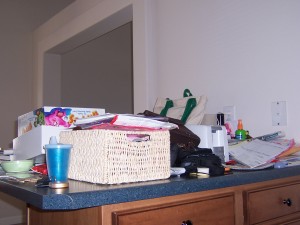 Yes. It's true. This was the fate of my kitchen counter nearly one month after Amanda and I returned home from our two-week summer vacation!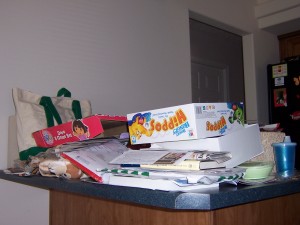 Normally, like many of my clients, I'd hide my head in shame if anyone outside my immediate family were to see my kitchen looking this way. In fact, I was incredibly grateful that the weather remained pleasant enough that the MOPS playgroup could meet at the elementary school playground rather than my home (which was our designated rain-out location)!
Now mind you, if our group did end up meeting at my house before I completed this week's Monday Mission organizing project, everything that you see on the kitchen counter would've simply been gathered in one fell swoop, hauled into the office, and dropped onto the floor in the middle of the room.
I'd close the door to the disaster, of course, so that anyone—who, heaven forbid, might need to use the restroom—could make their way down to the guest bathroom at the end of the hallway, completely oblivious to my messy little secret!
… suffice it to say that everyday living can even get in the way of a professional's best intentions! You're not alone!
Whew! This post has turned into far more than I had originally anticipated, so stay tuned… Next week, I shall continue to reveal how I successfully managed to clear off my kitchen counter (and keep it that way)! Until next time…