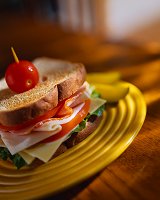 This week's mission is to plan your meals.
Do you have leftovers that need to get used up? Anything that's been in the freezer for a while? What's in the fridge that's close to its expiration date? Plan to use up these items with this week's menu.
Take 10 minutes today to make a list of your meals for the week. Be sure to select your meals according to the activities that are scheduled each day. You certainly don't want to plan a complex, preparation-intense meal on the day that you'll get home from work at 5:30pm and need to be at your son's baseball game at 6:00pm! Sandwiches, anyone?
Once you've completed your menu plan, highlight anything that needs to get pulled out of the freezer the night before. Then, post your schedule of meals on the fridge as a reminder. Hey, who knows… your teenage daughter might even get the meal started for you now that she knows what you've got planned! (Yes, I know… wishful thinking…)
In any case, you'll be grateful that you spent 10 minutes at the start of the week to plan out your meals. Not only will you eliminate the stress that comes with planning a meal after a long, hard day, but you'll save money by eliminating last-minute fast food excursions, and you'll stay healthy by eating more well-rounded meals!
You know how it is… after a long tiring day, it's tough to prepare a meal, let alone decide what to make. With a plan in place, the decisions will have already been made for you, and all you'll need to do is prepare and enjoy!
So, do you already have a menu plan for this week? I'd love to hear from you! Please leave a comment below to share your current menu plan.