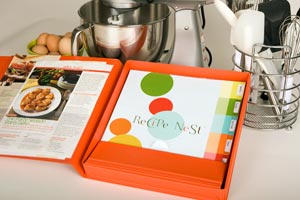 The Recipe Nest® is the perfect solution for those of us who clip (or simply tear out) recipes from magazines, or for those of us who tend to let things stack up in piles before we deal with them months later.
Not only is it ideal for sorting and storing recipes, but the Recipe Nest® also turns into a fabulous easel (with a handy clip) to hold your selected recipe at an eye-pleasing angle while you prepare it. Add the spill-proof vinyl covering to the trendy color selection, and you've got a real winner!
So, what about you? Are you a 'recipe collector' like me? What is your favorite way to store recipes? Share your thoughts in the comments!