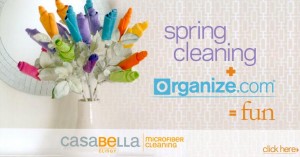 Courtesy of The Organizing Team @ Organize.com:
This Mother's Day, The Organizing Team at Organize.com wants to recognize the most organized woman you know.

Tell us about your mom, aunt, sister, co-worker, neighbor, or any other mother you know who is a champion over clutter. We want to hear all about her perfectly planned systems, strict routines, quirky habits and how she looks at organization with a positive and confident attitude.

We want to pamper one lucky lady this Mother's Day so she can continue her quest for organization.

While her home and office are perfectly color coordinated with matching boxes and bins, she also finds time to rule the boardroom, pick up the dry cleaning, drop the kids off at practice, plan the next dinner party, read a good book, laugh with friends and still find time for herself because she aligns her goals and priorities to make organization a lifestyle.

The selected winner will receive a Mother's Day Gift Basket filled with great Organize.com products valued at $350.

The deadline for submission is April 24th, 2009.

So what are you waiting for? Email us now and shine the spotlight on the most organized mom in your life.
Happy Organizing!