OMG! I just came across the best web browser add-in ever!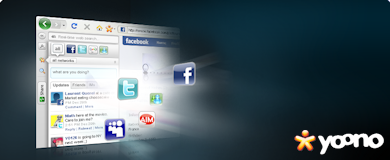 Yoono is so totally awesome! You have got to check it out!
Yoono is an easy to use sidebar for your browser that allows you to connect to all your social networks and instant messaging services—in one place. Get all your friend updates, update your own status, and easily share stuff with your friends.
What a fabulous way to simplify the process of staying connected! This new find will definitely help me stay "in the know" without getting completely "sucked in." Hello, productivity! 😉
What tools do you use to ensure that you "get things done" + and + keep "up-to-date" with family and friends? Please share your thoughts in the comments below. I'd love to soak up some more ideas!