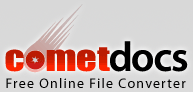 I *heart* Cometdocs! I've been looking everywhere to find a *free* (and preferably online) way to quickly and easily generate thumbnail preview images of the pdf files that I've been adding to the resources > downloads section of my website, to no avail. And then I found Cometdocs! And now I'm in love! Almost as much as I *heart* MailChimp! 😉
Here are some details 'straight from the horse's mouth':
Cometdocs is a one-of-its-kind free online document conversion interface that offers a large set of document conversions that can't be found anywhere else online. Its unique features include on-the-fly OCR conversion capabilities, over 50 different conversion options, and proprietary XPS and PDF conversion abilities that retain formatting, images, and text in the selected output format. And best of all for users -> it is available free of charge.

No need to install anything on your computer. Use the easy upload interface to convert your file. Your original file will not be affected, and you can choose your own file name for the converted file which will instantly download to your computer.
What to do with such limitless data conversion possibilities!?! Hmmm… Maybe I should convert some of my college writing and design work from 'the olden days' into something more readily usable… Interesting thought…
Anyway, did I already say how much I love this new find!?! 😉