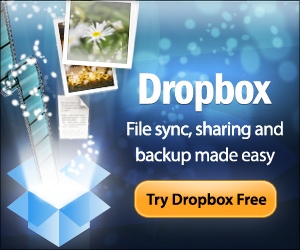 Dropbox has to be one of my favorite finds ever! If you don't already have a backup system in place for your computer files, you should definitely sign up for a free account.
Dropbox is the easiest way to store, sync, and share files online. There's no complicated interface to learn, it works seamlessly with any operating system (i.e., Windows, Mac, Linux), and it automatically makes sure your files are up-to-date.
Nowadays, our lives are on our computers. So, if you're anything like me, you'll be eternally grateful for the peace of mind that Dropbox offers (without you having to remember a thing)!
Plus, for those of us on a rather tight budget, the free account option is a lifesaver, providing just enough storage space for your most essential files.
Having your files (and all their revisions) accessible from anywhere in the world via the Dropbox website is a super-dooper handy feature for anyone who travels.
If you happen to forget to grab your final proposal before you leave home, it's no problem! Just stop by the library and print a new copy! So cool!
The features as listed on the Dropbox website…

Sync files of any size or type
Share large files and photos easily
Automatic online backup
Access your files anywhere
Sync between operating systems
Track and undo changes to files