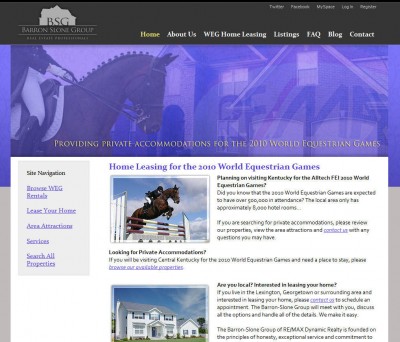 Tickets for the 2010 Alltech FEI World Equestrian Games officially went on sale today! The 16-day event hosts the world championships in eight equestrian disciplines: dressage, driving, endurances, eventing, jumping, para dressage, reigning, and vaulting.
For the very first time in their 20-year history, the Alltech FEI World Equestrian Games will be held outside of Europe… right here at the Kentucky Horse Park in Lexington… just a stone's throw away from my current home in Georgetown!
If you, by chance, are planning to attend the largest equine sporting event ever held in the United States, you should definitely check out EquestrianHomeLeasing.com.
Although the 2010 WEG are expected to have over 500,000 people in attendance, the local area only has approximately 8,000 hotel rooms
OK… Exactly how is that going to work, you ask? Well…
The Barron-Slone Group of RE/MAX Dynamic Realty (whose office is located in downtown Georgetown, just minutes from the Kentucky Horse Park) has been working tirelessly in preparation.

Backed by years of professional real estate experience, The Barron-Slone Group has hand-picked a wide variety of local private homes that will be made available for lease to individuals, families, groups, and corporations during the 2010 WEG.

In addition to these extraordinary accommodations, The Barron-Slone Group has an extensive list of local merchants and service providers who are ready to show Central Kentucky's visitors some real southern hospitality!
BTW, if you do find yourself visiting the Bluegrass, please get in touch with me… I'd love to meet you for lunch, recommend some of the best area attractions, and personally introduce you to Amy Barron and Carrie Slone!